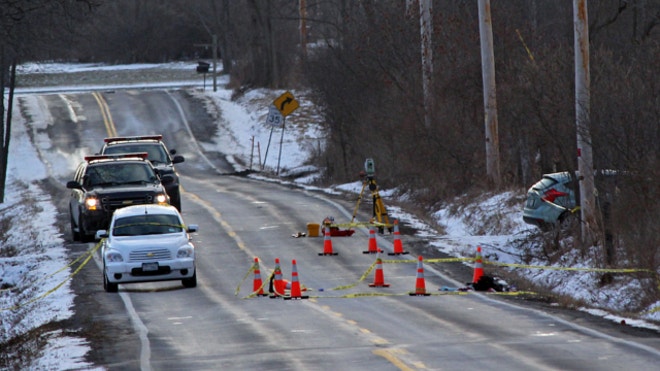 I came across this horrific story today on Fox News which describes a recent carjacking at a NY mall involving a mother and her young daughter. Sadly the state of NY has recently imposed some of the strictest gun laws in the country and this mother didn't have a way to defend and protect herself from this pervert. Why was he allowed to roam the streets after recently being charged with having child pornography?? It sounds like our laws against child predators are too lax. Apparently we need Jessica's Law to extend to child pornography offenders as well, as they are sex offenders just as much as the ones who have already been convicted and registered as sex offenders. It might even be time to reconsider releasing convicted offenders with electronic monitoring devices that can easily be removed.
Sadly, NY is one of six states like Colorado that hasn't adopted Jessica's Law, which would require a minimum of 25 years to life for child sex offenders. Personally I think any child predator and sex offender should get life in prison. They can not be rehabilitated and can never be trusted near or around children or in society, as this case has proven.
"A man previously charged with having child pornography cut an electronic monitoring device off his ankle before carjacking a woman, fatally stabbing her and raping her 10-year-old daughter, authorities said.
(AP Photo/The Syracuse Newspapers, Dick Blume). New York State Police lead David Renz out of the North Syracuse state police barracks Friday, March 15, 2013.

David J. Renz abducted the school librarian and her daughter as they left a gymnastics class at a mall in the Syracuse suburb of Clay, about 150 miles west of Albany, on Thursday night, state police said Friday.
Renz bound both victims, raped the girl and drove a short distance to a spot where the girl escaped and was found by a passing motorist, troopers said.
The motorist told 911 dispatchers he saw a man running away from the scene, allowing police to quickly send in officers on the ground and a sheriff's helicopter in the air. Renz was caught a short time later near a wooded area.
It was unclear how the girl escaped or when her mother was killed, authorities said.
"We're still trying to piece the timeline together," Trooper Jack Keller said.
The girl was being treated at a hospital Friday. Her mother died from multiple stab wounds.
Renz, 29, had been charged in January with possession of child pornography and allowed to remain free under terms that included staying off the Internet and away from places including schools, parks and arcades. He lost his job at a supermarket, moved in with his mother and hadn't been able to find other work after his arrest, according to court documents. Federal authorities said he cut his electronic monitoring device off his ankle shortly before Thursday's attacks.
Renz was arraigned Friday on murder, rape and kidnapping charges and was held without bail. The lawyer assigned to his case, Ken Moynihan, didn't return a call seeking comment.
The Associated Press generally doesn't publish information that could identify potential sex crime victims and isn't naming the woman to protect the girl's identity.
However, according to local news reports, a 47 year old librarian by the name of

Lori Bresnahan

has been identified as the murder victim.
According to an FBI criminal complaint, agents who went to the North Syracuse apartment where Renz was living in June found in his bedroom four computers that he told them he used to view adult pornography.
Agent Alix Skelton said Renz eventually admitted using the Internet for the past six years to download child porn to a drive on one of the machines, which he turned over to the agents. Technicians determined in November that it had an encrypted hard drive, and Skelton said Renz provided the encryption key. Agents reviewing the drive in December found about 100 gigabytes of child porn comprising more than 500 videos and more than 3,000 images, according to the complaint.
Among the images were two showing sex acts involving prepubescent girls, said Skelton, a member of a unit that targets people involved in online exploitation of children.
Renz was charged on Jan. 9 in federal court with possession of child pornography. On Jan. 29, a judge granted a prosecutor's request for an extension of the time required for grand jury action so investigators could continue going over "numerous items of electric media" for additional evidence.
Renz, who authorities said had no prior police record, was released after agreeing to stay at home at night with an electronic monitor and away from any place he might encounter children.
But Renz removed the monitor, Executive Assistant U.S. Attorney John Duncan said. Federal probation officials were investigating what happened, including whether Renz was able to get around an alert that is supposed to go off if the ankle bracelet is removed, he said."
Read more...

So much for the ankle bracelet being fool-proof. While it doesn't say whether Renz is an illegal immigrant or not, it makes you wonder how safe we are when DHS/ICE recently released over 2,000 criminal illegal immigrants in our country last month and another 8,000 were released in December 2012, long before the sequester excuse.

Some of these criminal illegal aliens are wearing these ankle monitors which can be easily removed and apparently are easy to lose track of their whereabouts, as this case proves. Recently it was reported that DHS had plans to release another 3,000 criminal illegal aliens in March, but now instead of planning to release 3,000, they are planning to release another 5,000!

What can you expect from the same Federal government who lost track of thousands of weapons that were sold to straw-men who then transferred them to drug cartel in Mexico under Fast and Furious and under Operation Castaway which sent unregistered guns to Honduras.

How safe do you feel knowing our own government is allowing criminals free with these compromised monitoring devices?? I wonder how many of these so called 'low risk' criminals have DUI's, burglary arrests, domestic violence and child abuse, are pedophiles or other offenses, like possession of child pornography.

Related:
Report: $2 Billion Spent Annually For Medicaid Emergencies, Mostly For Illegal Immigrants
Two-thirds of jobs go to illegal and legal immigrants during Obama's four years
Federal Database of Sex Offenders
Read more on the Jessica Lunsford Act
©2008-2013 Patricia Garza
blog comments powered by

Disqus