18 mos Baby Antonio Shot and Killed


WWW.KMOV.COM
I shared the gruesome details of this story
yesterday
, thankfully the suspects have been caught in the senseless and tragic shooting of an 18 month old out for a walk with his mother in Georgia. My thoughts and prayers go out to little Antonio's family and friends, this is such a heinous crime. I pray they get the death penalty if not life in prison, as the mother wishes. There is no excuse for this kind of criminal behavior and no reason to offer them a second chance or appeals process. Hopefully they will get a minimum of life in prison without parole and without a chance for appeal, because we know they did it based on the evidence and the description provided by the mother.
In this case two Black males are charged with shooting and killing an 18 month old baby in the face while he was in his stroller for a walk with his mother. However, from the video report yesterday, we know the mother is a White woman with a Hispanic husband, and was shot as well, but she survived while attempting to shield her baby. But sadly, there is no mention of this being a "hate crime"[although I believe all crimes are out of hate]. Yet, because there were two Black males involved in the shooting, the media doesn't correlate it as a hate crime or mention anything about race.
According to the report below, the oldest will be charged as an adult for first degree murder, making him eligible for the death penalty in Georgia. The other was a 14 year old Black male, however a photo of him is not shown due to his age.
The description of the suspects was provided by the victim yesterday to police, however, the media chose to keep those details out of the reporting until today in the video report below. [Yesterday, CNN only reported the suspects being "two young male suspects, between 10-15yrs old]. Police say they are still considering a motive, even though the mother said they tried to rob her at gunpoint and shot her and her child. What more do they need for a motive?? Robbery!!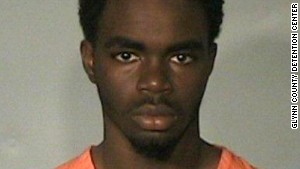 Police said 17yro suspect De'Marquise Elkins will be treated as an adult in criminal proceedings.
Shockingly the article doesn't say anything about the race of either of the suspects nor the victim, as they do in most other crimes, such as the highly charged
George Zimmerman case against Trayvon Martin
or the recent
shooting suspect in the CO investigation
, which they claim was a white supremacist. When it doesn't fit a racist agenda, and the suspect isn't 'White' they don't like to admit it was Blacks who committed the crime. I guess that is why we rarely hear about the
numerous shootings that occur daily in Chicago
.
WWW.KMOV.COM
In a tear-ridden interview, Sherry West called her son Antonio a "beautiful baby.
Anyway, I thought I would point this out because I get so tired of the biased media reporting. Not that I want this case to be about race, since
we know it was a robbery attempt
.
I just thought I'd mention how biased the media reporting is when it's not a Black victim, but a White or Hispanic victim as in this case and the George Zimmerman case, the media keeps race out of the story line.
CNN.com
:
"STORY HIGHLIGHTS
Police said they checked school attendance records\
Two boys, ages 17 and 14, are in custody, police chief says[notice no mention of race again]
Teens held on suspicion of first-degree murder
Woman said 2 youths tried to rob her, shot her baby
Brunswick, Georgia (CNN) -- Two teenagers were arrested Friday in the shooting death of a 13-month-old boy who was in his stroller, according to police in this coastal city.
The suspects are a 17-year-old boy and a 14-year-old boy
, Police Chief Tobe Green told reporters Friday. Both have been charged with first-degree murder, police said.
Green identified the older suspect as
De'Marquise Elkins, saying he will be treated as an adult in criminal proceedings. The 14-year-old was not identified because of his age. "We are turning every stone to get a motive
," said Green.
Police said they acted on a suspect description given by the baby's mother,
Sherry West, who said she was with her son when she became the victim of a robbery attempt.
Officers checked school attendance records to determine who was not in classes Thursday, police spokesman Todd Rhodes said. No other suspects are being sought, he said.
A weapon, believed to be a handgun, has not been found, but police expressed confidence they would find it. Rhodes, who described the shooting as "horrific," told CNN's "The Situation Room" on Friday evening that search warrants were being executed in three locations. Police were tight-lipped about the investigation and arrests.
West earlier told reporters that the incident occurred at 9 a.m. Thursday as
she was walking home from the post office, pushing her son Antonio in a stroller
.
She said she saw two boys. "
A boy approached me and told me he wanted my money, and I told him I didn't have any money
. And he said, '
Give me your money or I'm going to kill you and I'm going to shoot your baby and kill your baby,' and I said, 'I don't have any money,' and 'Don't kill my baby.
'"
The boy tried to grab her purse and opened fire when she said tried to tell him she had no money, West said, with the shot grazing her head. She said the boy then shot her in the leg.
West continued, "
And then, all of a sudden, he walked over and he shot my baby in the face.
" West said she tried to perform CPR on her son and that the police took over when they arrived, but to no avail. "We lost him," she said.
During the incident
,
the smaller of the two boys was hiding behind the larger one
, she said. "I don't know whether it was his brother or a friend."
West had said she hopes the boys will receive the maximum sentence possible. "
If they can use a gun like an adult, then they can be charged like an adult
," she said. "
I want to see lethal injection or at least life in prison. This child did nothing to him. He was innocent and helpless.
"
Louis Santiago, father of the baby, told CNN later Friday: "I'm doing OK. I'm holding on."
Police offered a $10,000 reward for information and have received more than 30 leads. They were still following them Friday afternoon.
Though no one has reported seeing the shooting, several people called 911 after hearing it, Rhodes said. Rhodes said crime is not common in the residential neighborhood where West said her child was shot.
"It's a nice area, it's a clean area, it's an area where law-abiding citizens not only live, they also work and play."
Read more
....
Sadly, for those who want to
ban "assault weapons
", that would not have saved this little baby and his mother. The suspects used a handgun which was obviously stolen since anyone under the age of 18 can't legally purchase a weapon. Therefore a
background check
wouldn't have helped in this case either. Unfortunately for the mother, she had no way to protect and defend herself and if she did, she may have been able to save herself and her baby. Luckily she was only shot in the leg. Sad world we live in when a mother with a young baby can't even go for a stroll without being attacked by thugs.
©2008-2013 Patricia Garza
blog comments powered by

Disqus