Today was another horrific day for America and foreign tourists who came to run in and watch one of the most popular US marathon's...The Boston Marathon, which is often held on "Patriot's Day" in Boston in honor of our nations founding. Patriots Day is a Massachusetts state holiday which commemorates the first battles of the American Revolution in 1775.

Despite the tragedy and loss of life, along with massive reports of injuries, at least 140 or more injured and at least three confirmed dead, including the youngest victim killed, an eight year old boy...we have to look to the good and realize more good exists than evil, despite the reports of tragedy. This quote from Mr. Rogers mother, is comforting and fitting for parents to share with their children after such tragedies, but also for adults to put such a tragic situation in perspective: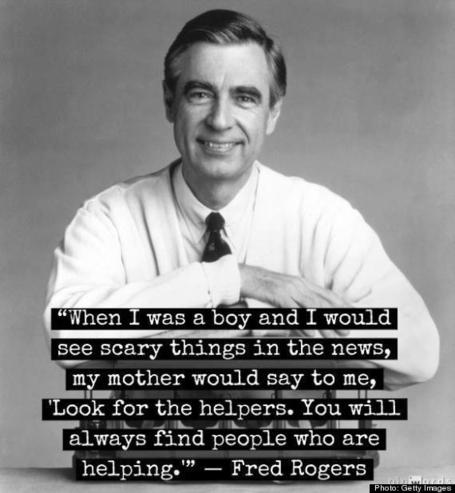 Be a helper.....Click if you can help with a place to stay for those stranded in Boston...

Have a friend running the marathon? Check out this site to find their most recent checkpoint. Additionally, families looking for loved ones should call 617-635-4500. Anyone with info about explosions should call 1800-494-TIPS

Below is a comprehensive summary from various sources of some of the events that unfolded after the 2013 Boston Marathon Explosion. I will try to update it as we learn more or post a new post as new updates come in.
Thank God no other loss of life occurred after the execution murder of the MIT police officer on Thursday night. Suspect 2 was finally captured, alive on Friday evening after law enforcement were eventually led to a home in Watertown, Mass at 67 Franklin St, where the resident notified police of blood found on their boat and sighting what they believed was the suspect hiding under a tarp on their boat.
The suspect fought back with multiple gun shots being heard and recorded on eye witness video, eventually flash bangs were heard, likely used by police as they sent in a robot to detect any bombs and then the negotiator eventually was able to get the suspect to give himself up so police could take him into custody and paramedics could transport him to Beth Israel Hospital in Boston.
Once police apprehended him, he was said to be uncommunicative due to his injuries. Reports are that he is in serious condition and lost a lot of blood, but is expected to live. However, an official statement has not yet been released by Hospital officials.
Jahar ,19, the younger suspect, was apparently previously wounded in the fire fight the night before which eventually killed his older brother after they launched grenades at cops and shot at them during a shoot out. The older brother, Tamerlan 26, died Thursday night during that shootout and the younger brother, suspect 2 made his escape after driving over his older brother body.
The manhunt for the younger brother last nearly 24 hours before police finally captured him alive hiding under a boat in an area just outside the perimeter where police had secured. However, police would not have found the suspect had law enforcement not lifted the LOCKDOWN, which ordered residents in the area to stay inside for nearly 24 hours after the shootout on Thursday night and shutdown local municipal transportation including buses, cabs, schools, and all other public activity, because cops feared the suspect had more bombs and was possibly wearing a suicide vest as was found on his brother.
Read More...
Related:
More about the suspects and their families-
"I know the Boston bombers"--friend of suspects family reports change in behavior&radicalization towards Islam
MORE:
Update 4/20/13 1:41pm:
It's been a sad and busy week for Americans following the Boston Bombing on Monday. I finally found some time to update this post. Here are pictures and more info on some of the victims from Monday's terrorist bombing in Boston as reported by the
NYD News
:
The three people killed in the fatal bombing of theBoston (from left): Martin Richard, 8; Krystle Campbell, 29, and Lingzi Lu, 23
Families of those killed and injured in the Boston Marathon bombing breathed a sigh of relief after the bombing suspect was captured Friday night.

"Elated," said Tim Corcoran, whose brother's wife and daughter were badly wounded in the blast, describing his reaction to the capture. "It's going to be a long road to hoe, and this is just one part of it, but to feel there's some way to end this immediate pain we've been hit with, and look forward to the healing now, is a big relief. It's a big weight off our shoulders."

Injured:
An emergency responder and volunteers, including Carlos Arredondo in the cowboy hat, push Jeff Bauman in a wheelchair after he was injured in an explosion near the finish line of the Boston Marathon on Monday



Said the family of 8-year-old victim Martin Richard in a statement: "Our community is once again safe from these two men. None of this will bring our beloved Martin back, or reverse the injuries these men inflicted on our family and nearly two hundred others. We continue to pray for healing and for comfort on the long road that lies ahead for every victim and their loved ones.




"Our family applauds the entire law enforcement community for a job well done, and trust that our justice system will now do its job."




"I'm happy that nobody else is going to get hurt by these guys, but it's not going to bring her back," William Campbell III, brother of Krystle Campbell, who was killed in the blast, told the Boston Globe.




"You can only get so angry,'' he said. "And you then know she's not going to be here anymore."
Update 4/16/13 1:07pm
:
A 29-year-old restaurant manager has been identified as one of three people killed in the bombing at the Boston Marathon.
Her father says Krystle Campbell, of Medford, Mass., had gone with her best friend to take a picture of the friend's boyfriend crossing the finish line on Monday afternoon.
William Campbell says his daughter, who worked at a restaurant in nearby Arlington, was "very caring, very loving person, and was daddy's little girl." He says the loss has devastated the family.
Breaking:
Saudi suspect ruled out...Pressure cookers with ball bearings used to maximize casualties-Al

Qaeda

publication Inspire, described similar attack last month...
BostonGlobe.

com Eight-year-old Martin Richard was killed in the attack,
and his mother and sister suffered grievous injuries.
The youngest victim to die from his injuries is
Martin Richards, a vibrant eight year old boy who loved to climb trees and fences in his neighborhood.
So heartbreaking, I broke out into tears when I first saw this video this morning. Martin is as old as my oldest son and like Martin, loves to climb trees.
Public safety unions in Boston announce a reward for information leading to capture of those responsible for marathon attack -
@RyanSchulteis
This undated photo provided by Bill Richard shows his son, Martin Richard, in Boston. Martin Richard, 8, was among the at least three people killed in the explosions at the finish line of the Boston Marathon Monday, April 15, 2013. (AP Photo/Bill Richard)
Updates via Daily Mail:
The little boy who died in Monday's Boston bombing has been named as eight-year-old Martin Richard from
Dorchester in Massachusetts - killed as he was standing in line waiting to give his marathon running father a hug.
Losing his life as two explosions tore through the crowd at the finishing post of the Boston Marathon, Martin was at the race to support his dad Bill Martin, along with his mother Denise Richard and two siblings.
Friends held a vigil on Monday night at the neighborhood Tavolo Restaurant in Dorchester
for Martin and his mother and sister, who suffered 'grievous' injuries in the bombing on Monday afternoon.
According to the
Boston Globe
, Martin Richards had walked out to hug his father as he went to cross the finishing line.
Afterwards, his father walked on but the little boy went back to rejoin his mom and siblings - at which point the first bomb went off.
Reports suggest that his mother was terribly injured and his sisters leg was blown off in the devastating explosion.
WARNING: GRAPHIC CONTENT AND VIDEO BELOW
Boston police and federal officials descended on an Ocean Avenue apartment complex in Boston to search the home of a person of interest
FBI warned police to be on the lookout for a 'darker-skinned or black male' with a possible foreign accent in connection with the attack
Hospitals reported at least 144 people are being treated, with at least 17 of them in critical condition and 25 in serious condition
.
At least eight of the patients are children - including a two-year-old boy with a head injury
Hospitals report they were removing ball bearings from victims - suggesting the bombs were designed to propel shrapnel
At least ten people have had limbs amputated
Two detonations came 12-seconds apart - with witnesses describing scenes of utter 'pandemonium'
New York City stepping up anti-terror efforts in wake of attack and have tightened security around popular destinations like Times Square
FBI officially classifying bombings as terrorist attack, as President Obama said it is important to 'get to the bottom of this'
Boston police say no suspect has been taken into custody
Exact Moment: People react as an explosion goes off near the finish at the Boston Marathon finish line on Monday, sending authorities out on the course to carry off the injured
Walking Wounded: A man staggers away from the scene of the explosions at the 2013 Boston Marathon in Boston, today
Victims reportedly ranging from two-years-old to 63-years-old
, hospitals across Boston have said that they were removing ball bearings from a large number of the 144 injured in the co-ordinated and almost simultaneous bomb blasts.
Medical officials have said that at least
10 injured people had limbs amputated and several of the patients treated at Massachusetts General Hospital suffered injuries to lower limbs that will require 'serial operations' in the coming days
, trauma surgeon Peter
Fagenholz
said on Monday night to
CNN
.
Initially counter-terrorism sources in the city believed that seven devices were planted across the city - but only two detonated.
However, a law-enforcement official said late on Monday evening that investigators now doubt those devices were bombs, but were in fact suspect packages - left behind as runners and pedestrians rushed away from the scene in the aftermath of the blasts.
Eventually law enforcement and city officials disputed published ­reports that investigators had discovered one or more bombs that had failed to explode.
A federal law enforcement official told CNN that both
bombs which detonated at the Boston finish line were small, and initial tests showed no C-4 or other high-grade explosive was used - indicating they were crude devices.
And at an evening briefing, officials said the National Guard had cordoned off the area to preserve evidence.
'I am not prepared to say we are at ease at this point in time,' sad Boston Police Commissioner Ed Davis according to
NBC News.
Runners continue to run towards the finish line of the Boston Marathon as an explosion erupts near the finish line of the race

It was this afternoon that at least three people were killed and up to 144 people injured as two bombs exploded almost simultaneously near the finish line of the Boston Marathon today.
After the twin detonations 12 seconds apart
ripped through the cheering crowds 50-yards away lining Boston's streets at around 2.50 p.m - one witness told CNN that it 'felt like a huge cannon'.
Bill Iffrig, 78 and a veteran marathon runner, was almost at the finish when 'the shock waves just hit my whole body and my legs just started jittering around.'
Iffrig, can be seen in video of the explosion wearing an ora

nge tank top, and was helped to his feet by an event volunteer and had just a scratch from his fall, he told
CNN.
'In 28 years, this is definitely the worst I've seen,' said District Fire Chief Ron Harrington of the Boston Fire Department's District 3 to
NBC News.
'Bodies and body parts. Blood all over. A little boy lying in the street. A young woman in her twenties. Both dead. It was mayhem. I saw two people with arms hanging loose, and one without a leg. A shoe with flesh still in it.'
Right after the blasts, police officers could be seen carrying bloody spectators to medical tents intended for exhausted runners in desperate attempts to save lives.
'They just started bringing people in with no limbs,' said runner Tim Davey of Richmond, Va. He said he and his wife, Lisa, tried to shield their children's eyes from the gruesome scene inside a medical tent that had been set up to care for fatigued runners, but 'they saw a lot.'
'They just kept filling up with more and more casualties,' Lisa Davey said. 'Most everybody was conscious. They were very dazed.'
Dr. Ron Walls, chair of emergency medicine at Brigham and Women's Hospital, told
ABC News
doctors did not identify any shrapnel, such as ball bearings, but saw a lot of 'street stuff' that had injured their patients.
'Rocks, bits of metal, soda cans, anything that is really close to a blast like that can be fragmented,' he said. 'Everything we saw was ordinary material that could have been propelled by the device.'
Boston Children's Hospital received eight patients injured at the explosion at the Boston Marathon. Patients' conditions ranged from good to serious. There were no patient deaths among the patients brought to Boston Children's from the scene.
Their patients included a 2 year-old-boy with a head injury has been admitted to the Medical/Surgical ICU, a a 9-year-old girl with leg trauma who was sent to the operating room and a 12-year-old boy with a femur fracture.
The condition of these children currently is not known.
Earlier on Monday, it was reported that a potential suspect in the attacks was being guarded by police in an undisclosed Boston hospital.
Several reports now say a suspect is being guarded in a Boston hospital bed. One initial report said he was a Saudi Arabian national.
CBS News senior correspondent John Miller confirmed that a Saudi national is being questioned by authorities.
He was seen 'acting suspiciously' running from the explosion.
He was turned over to Boston police and is being questioned by the FBI. He is being cooperative and denies any involvement.
'This could mean a lot, or this could mean very little,' Miller said at the time. 'It's too soon to call him a suspect.' ***
It was later revealed that the Saudi national question was report­edly tackled and held by a ­bystander after he was seen running from near the scene of the explosion, said a law enforce­ment source.
The Saudi man, believed to be a university student in Boston with a valid visa, is cooperating with the FBI and told agents that he was not involved in the explosions, and that he ran only because he was frightened. Investigators did not believe the man as a suspect.
Speaking to the nation just after 6.p.m this evening President Barack Obama vowed that those responsible will 'feel the full weight of justice.'
He reiterated that many people were injured, 'some gravely' and remarked that on days like today, 'there are no Republicans or Democrats,' emphasizing that it is crucial not to categorize the bombings as terrorist attacks. ***
Summary of Boston Marathon 2013 Explosion Timeline:
9 A.M. - The 2013 Boston Marathon begins.
11:58 A.M. - Rita

Jeptoo of Kenya becomes the women's winner, crossing the finish line with a time of 2:26:25.
12:10 P.M. - Men's winner Lelisa Desisa, of Ethiopia, finishes with a time of 2:10:22.
2:50 P.M

. - Two blasts go off only seconds apart at the finish line, less than 100 yards from each other on the north side of Boylston Street.
3 P.M. - A fire breaks out in the mechanical room at the JFK Presidential Library, but is reportedly not related to the explosions at the marathon.
3:34 P.M. - The Massachusetts Bay Transportation Authority announces that multiple sections of the Green Line will be suspended due to police activity.
4:02 P.M. - The first official reports from the Boston Police Department list two dead and 23 injured.
4:30 P.M. - A third blast goes off near the JFK Library though no one is injured. Authorities say the explosion is being treated as an 'ongoing event.'
4:30 P.M. - Boston Police Commissioner Edward Davis holds a press conference urging people to remain indoors and not congregate in large groups.
5:23 P.M. - The fire in the JFK Library is put out.
6:10 P.M. - President Barack Obama addresses the nation, vowing: 'We'll find out who did this. We'll find out why they did this.'
6:30 P.M. - One of the dead is reported to be an 8-year-old boy.
It appears the bombs were left for the slower, charity runners grappling with a four-hour run time who were converging on the race's end at 2:50 p.m
Police were keen to underline there had been no arrests but they did say they were talking to suspects.
There was another individual pictured in handcuffs near to the scene but it wasn't clear whether it was an unrelated arrest or not.
The first blast sent a quick plume of smoke two stories high. Runners nearby stopped in their tracks, confused and unsure. After a few seconds later, a second explosion happened a half-block away, with a deep boom caught on television cameras.
Emergency personnel rushed to the area, and the street was quickly sealed off.
'I saw it go off and smoke billowed up. Everyone just stopped and hunched down,' said Pam

Ledtke, 51, from Indianapolis, who was about 75 yards from the finish line when the explosions went off.
Nickilynn Estologa,

a nursing student who was volunteering in a block-long medical tent designed to treat fatigued runners, said five to six victims immediately staggered inside. Several were children; one was in his 60s.
'Some were bleeding from the head, they had glass shards in their skin,' she said.
'One person had the flesh gone from his leg; it was just hanging there.' Another woman, she added, was lying on a gurney as emergency personnel raced through the tent, giving her CPR.
'I just can't believe anyone would do something like this,'

Estologa said.
'I saw two explosions,' reported Boston Herald journalist Chris Cassidy

, who was running in the marathon.
'The first one was beyond the finish line. I heard a loud bang and I saw smoke rising.'
The blast 'looked like it was in a trash can or something,' he said. 'There are at least a dozen that seem to be injured in some way.'
Police established a crime scene around the Prudential Center, which is near the finish line. The blast apparently occurred about 300 yards from the finish line.
Of the 23,326 runners who started the race on Monday, 17,584 finished before the blast, marathon officials said. The runners were diverted before officials brought the marathon to a halt.
Mike Mitchell of Vancouver, Canada, a runner who had finished the race, said he was looking back at the finish line and saw a 'massive explosion.'
Smoke rose 50 feet in the air, Mitchell said. People began running and screaming after hearing the noise, Mitchell said.
'Everybody freaked out,' Mitchell said.
Spectators typically line the 26.2 mile race course, with the heaviest crowds near the finish line.
The transit agency shut down all service to the area, citing police activity, and the U.S. Federal Aviation Administration temporarily restricted airspace over the scene, a spokesman said.
The Boston Marathon has been held on Patriot's Day, the third Monday of April, since 1897. The event, which starts in
Hopkinton, Massachusetts and ends in Boston's Copley Square, attracts an estimated half-million spectators and some 20,000 participants every year.
The Boston Symphony Orchestra cancelled Monday night's concert and the National Hockey League's Boston Bruins canceled their home game against the Ottawa Senators.
CBS News reports that police are now looking at surveillance video showing someone carrying multiple backpacks into the area about 20 minutes before explosions. Additionally, a shadowy figure was captured on CCTV around 20 minutes before the two blasts.
One witness said 'there was blood everywhere.'
CNN revealed that families from last December's Newtown tragedy were at the scene, though none of them were reported injured.
State and local officials told CNN's

John King that there was no known credible threat prior to the explosions.
The marathon said in a statement: 'There were two bombs that exploded near the finish line in today's Boston Marathon. We are working with law enforcement to understand what exactly has happened.'
Some 23,000 runners took part in the 26.2-mile race, one of the world's oldest and most prestigious marathons. One of Boston's biggest annual events, the race winds up near Copley Square, not far from the landmark Prudential Center and the Boston Public Library.
In the aftermath Boston Police Commissioner Edward Davis asked people to stay indoors or go back to their hotel rooms and avoid crowds as bomb squads checked parcels and bags left along the race route.
The Federal Aviation Administration barred low-flying aircraft from within 3.5 miles of the site.
Steven Saurbier, who saw the explosion's aftermath from his window, told The New York Observer: 'It shook my building, we're about 100 yards down the street. I figured it was a cannon, or some giant confetti blast, or something planned for the Marathon.
'Then a second blast went off–much larger–and it rattled the whole building.
'There was a large cloud of white smoke and people were running from the blast site. Police swarmed immediately, they removed one or two people after patting them down. There were a lot of injured people … I estimate 20 people were medically transported. … I saw a woman being carried by two men and I am almost positive her left leg was blown off at the knee.'
All off-duty Boston police officers have been called in to work following the blasts.
Read more
...
War Against Islam Updates
:
RT @littlebytesnews: Video From Boston Explosion Shows Man With Legs...
http://sco.lt/7fJxth
Boston.com reporter Steve Silva was at the finish line at the time of the first explosion in Boston today. Here's the intense, scary video he captured on the scene.
Fox: #breaking Navy sending bomb disposal unit to Boston to assist with detonation;disposal;will go entire length of route to check packages
RT @RedCross: Thanks to generosity of volunteer blood donors there is currently enough blood on the shelves to meet demand. #BostonMarathon
RT @littlebytesnews: RT @slone: TIGHTENED SECURITY: 2 US nuke plants tighten security after blasts http://t.co/qHu6r9rc6l #tcot
RT @littlebytesnews: Pray for Boston, Pray for America! http://t.co/EnLZV4kqg1 ;live video of initial explosion
The Courier-Mail:
"2.25pm:Paramedic Cat Cronin has tweeted pictures of her two-year-old patient who was thrown six feet by the force of the bomb blasts.
Paramedic Cat Cronin posted this image of her youngest patient on Twitter with this caption: My bravest patient today. Picture: Twitter/
MedicCat
Source: Twitter
"
He was thrown 6 feet, sustained multiply head injuries
. CAT scan will tell the rest. He was amazing!!!" she tweeted."
Two explosions at the finish line of the Boston Marathon
New York Post...a suspect is in custody?? Police found another explosive in a hotel and discontinued cell phone use, they think explosives were placed in trash cans at least 12 dead per initial reports...58 injured...JFK library on fire, may be unrelated..., confirmed third explosion at JFK library,see my stream for updates
Gallery of some of the tragic scenes from the Boston Marathon bombing:
Injured people and debris lie on the sidewalk near the Boston Marathon finish line. Picture: AP Photo/

MetroWest Daily News, Ken McGagh
Little Bytes News Current Events Updates:
Police on Hunt for Suspicious Man from Marathon---was it Big Foot??
I wonder if this "Big Foot" photo of someone on a rooftop near where the second bomb went off is the suspect in question??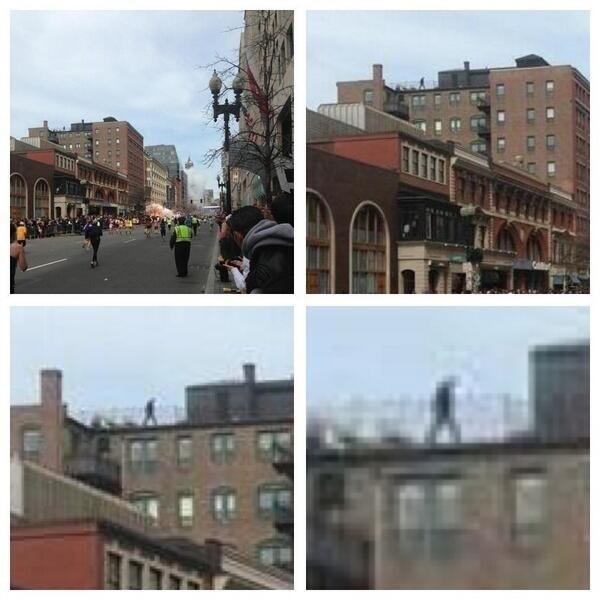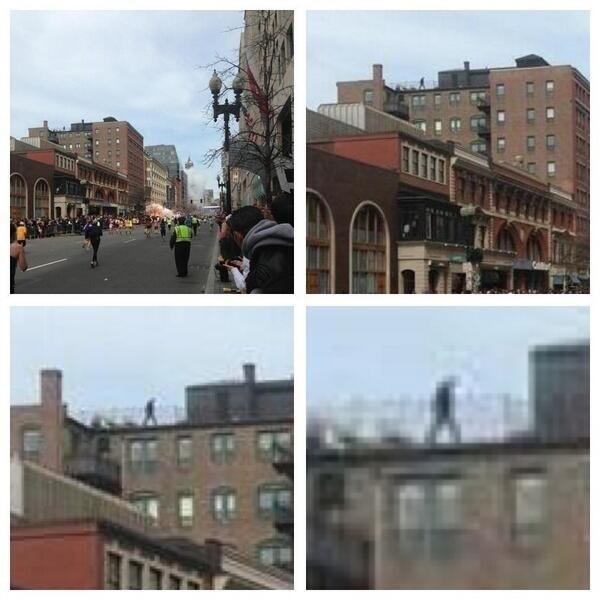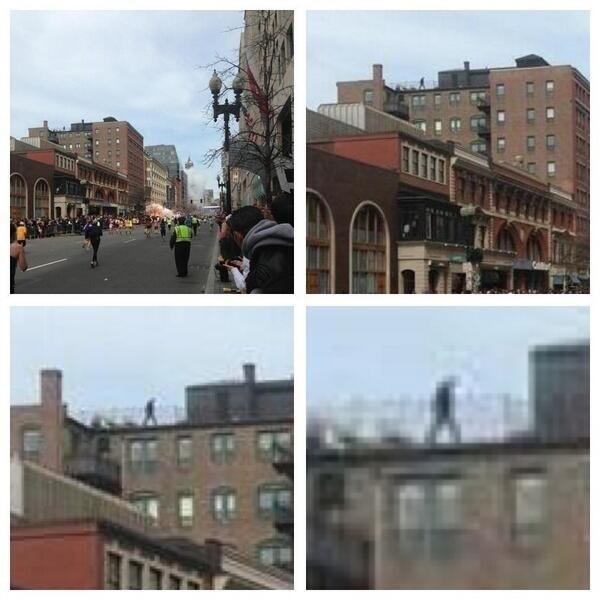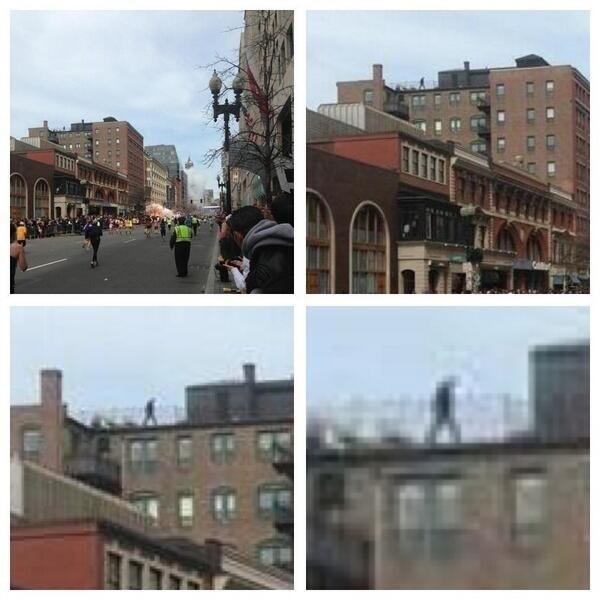 BREAKING REPORT:
Police Have Video of Suspect Dropping Bombs in Trash Cans (UPDATED)
http://sco.lt/5JtIDx
RT @alboenews: NBC News: A young person in the U.S. on a student visa being questioned regarding terror attack.
Update:Confirmation per Catherine Herridge...the FBI will brief House Intelligence Committee tomorrow...pressing active investigation since they are starting briefings so quickly
Now they're trying to deny a suspect is in custody, Police commissioner won't get into details of how many are dead...heavy police presence throughout the city, hospitals, hotels,etc...any unattended package being inspected.
"Person of interest guarded in hospital" won't say if he's a suspect, but has extreme injuries/burns.
It's likely Islamic terrorism related....confirmed per Catherine Herridge
ball bearings were found in explosives, something they are known for using
Unclear if foreign or domestic, or international terrorism, but meets definition of terrorism with simultaneous attacks
Pray for all the victims, especially young Martin Richards, and all the bystanders and families involved. May God bless them and comfort them during this difficult time and may those responsible be caught and brought to justice immediately.
It's so sad to hear about this tragic and senseless loss of life and another terror attack on innocent Americans. May those responsible be caught soon!
©2008-2013 Patricia Garza
blog comments powered by

Disqus