The Stir By CafeMom:
"A father who approved the adoption of his biological daughter changed his mind and decided he wanted the baby after all. He sued for custody -- and after two years the adoptive parents were forced to give the girl to her biological father. Doesn't sound fair, considering the father had already given up his parental rights, does it? But wait -- this father was 2 percent Native American. He used the
Indian Child Welfare Act
to claim the girl he had once given up. Is that fair? The
Supreme Court
heard this case today. A law that was passed in 1978 to keep families together has been used to tear one family apart. The court must decide if that's legal -- but is anyone considering what's best for the child?

When Oklahoma single mother of two Christy Maldonado found herself pregnant by her fiance, Dusten Brown, the relationship fell apart. Dusten sent her a text message saying he wanted nothing to do with the baby and would not accept any responsibility for her. So Christy made the best choice she could: She chose an open adoption with a North Carolina couple, Matt and Melanie Capobianco.
Dusten signed the adoption papers and then deployed overseas. Christy's lawyers contacted the Cherokee Nation to make sure they would not contest the adoption. They couldn't find any record of Dusten. So the adoption went forward. But soon afterward, Dusten changed his mind and sued for custody.
After two years with the Capobiancos, the baby girl was torn from her adoptive family and handed over to Dusten.
"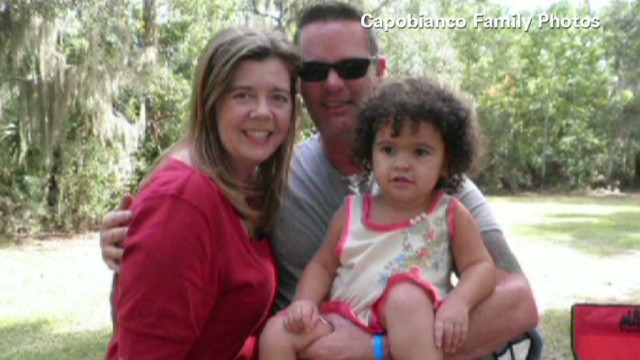 While the courts are supposed to intervene in the "best interest of the child", I hope the Supreme Court rules in favor of leaving the little girl where she is considering she doesn't have any relationship with her 'real dad'. If she is happy, safe, well loved and cared for with her adoptive family, the Capobiancos, why tear them apart just to satisfy his sudden urge and selfishness to want to be a father to the little girl?? The birth mother did the right thing and put her for adoption rather than aborting her, now her birth father is going to make her life miserable along with the adoptive family for doing the right thing and adopting her.
I hope the Supreme Court finds the ICWA void in this case, especially after he gave up his parental rights and entered into a legal agreement by doing so. Once you sever your natural rights and responsibilities as a parent you should have no other rights to that child, unless there was an agreement that allowed either party to change their mind after 30 days, a year, or some other deadline. Otherwise, I'd say he's SOL and should leave her alone and the adoptive family alone. Perhaps when the daughter becomes an adult and she wants a relationship with her birth father than she can look him up then.
©2008-2013 Patricia Garza
blog comments powered by

Disqus