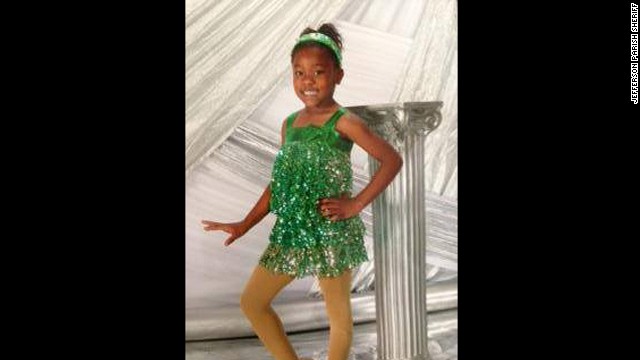 Sad story, my heart breaks for her family who had hoped she'd be found alive. What is worse is this story will not last nearly as long in the headlines as the political lynching of George Zimmerman, in the meantime 91% of blacks are murdered by other blacks according to the latest FBI statistics and over 300,000 are aborted every year, but nobody is protesting the black genocide going on every day across the country. Why was Trayvon so much more important than this little girl and thousands of others killed?
CNN.com
:
STORY HIGHLIGHTS
NEW: Police make an arrest
Authorities say Matthew Flugence, 20, babysat the girl in the past
Ahlittia North was missing since Saturday morning
Flugence's brother is arrested for obstruction of justice
(CNN) -- Louisiana authorities said Tuesday they found the body of a missing 6-year-old girl, stabbed and stuffed in a trash can down the street from her home.
Ahlittia North had been missing since Saturday morning. Her mother awoke to find her gone from their apartment in the New Orleans suburb of Harvey.
Late Tuesday night, authorities charged Matthew Flugence, the nephew of Ahlittia's stepfather, in the girl's death.
The Jefferson Parish Sheriff's Office said Flugence, 20, often babysat for her.
Matthew Flugence is charged in Ahlittia North's death.
Flugence was arrested after he was spotted walking along a road in the area. He had a knife on him, Sheriff's Col. John Fortunato said.
Witnesses told authorities that Ahlittia was a friendly, outgoing child who always wanted to be first at the door when the doorbell rang, Normand said.
After she was reported missing Saturday, investigators spent all day combing her neighborhood, looking in alleys, Dumpsters and boarded-up fourplexes. They found a pool of blood in one of the buildings, Normand said, and when DNA results came back Monday evening showing the blood belonged to Ahlittia, investigators searched the area again.
That's when they found the girl's body in a garbage can, wrapped in a blanket from her house and covered in a garbage bag, Normand said.
Investigators looked at the garbage can during their first search of the neighborhood, so they know the body was put inside sometime after Saturday -- but they still don't know when, he said.
It's possible Ahlittia's body was placed there so the garbage trucks would take it away. Normand said garbage collection in the neighborhood happens Tuesday mornings.
Ahlittia suffered four stab wounds -- two to her neck, likely the fatal wounds, and two to the abdomen, Jefferson Parish Coroner Gerald Cvitanovich said. She also had bruises to the front and back of her head, shoulder, lower back, and lower extremities.
©2008-2013 Patricia Garza
blog comments powered by

Disqus